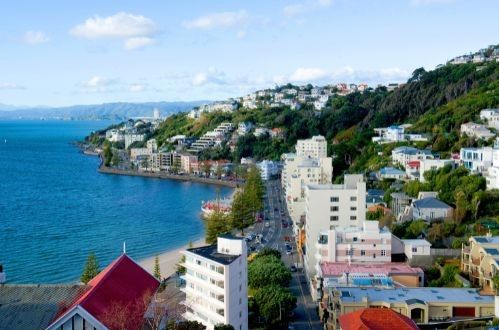 Why should you study in New Zealand?
New Zealand is rapidly gaining popularity as a study abroad destination. Here's why:
New Zealand is well-known for its magnificent beauty, but there's a lot more to it than that. It is quickly becoming one of the most popular choices among Indian students studying abroad. With a great education system, internationally recognized qualifications, extensive research possibilities, and unrivaled quality of life, New Zealand has a lot to offer.
Why Study in New Zealand?
Qualifications that are internationally recognized
New Zealand's eight institutions routinely rank well in QS World Rankings and Times Higher Education Rankings, and degrees from any of them are recognized worldwide, offering doors to opportunities everywhere.
New Zealand's education system, influenced by the UK's, emphasizes research-based instruction, which means you'll learn to deal with circumstances logically and rationally. At various levels, you will be taught how to operate independently and in a team.
Faculty with extensive experience, well-equipped laboratories, and access to cutting-edge technology, equipment, and opportunities are all available in the country. Its innovative attitude has turned it into a center for new technologies, research, and development in a variety of sectors, including healthcare, physics, geology, engineering, astronomy, computer science, and agriculture.
As a PhD in addition to the extensive research opportunities, you would have access to additional benefits as a student.
New Zealand is ranked second in the Global Peace Index, which measures the country's social tolerance and political stability. As an international student, you'll have the same rights as Kiwi students.
New Zealand has a stunning multi-cultural environment that complements the country's active outdoor lifestyle. New Zealand screams adventure, with everything from snowcapped mountains and rumbling volcanoes to rolling green hills, golden sand beaches, and lush rain forests. Because of the city's rich culture.
You can work part-time to supplement your income while you study.
As an international student in New Zealand, you can work up to 20 hours per week during the semesters and full-time during the vacations. There are a lot of job opportunities in New Zealand, you will be able to work full-time if you are working on a research master's or doctoral degree.
New Zealand is without a doubt the safest country in which to study, placing second on the 2019 Global Peace Index. It has the appropriate blend of chances, culture, economy, and climate for an Indian student to succeed, with globally recognized universities and a responsive education system.
All You need to know about Studying in New Zealand
The education in New Zealand for international students provides one with a lot of exposure like you've never had before, thanks to academic brilliance, experienced faculty, globally recognized qualifications, amazing teaching methods, and vast research opportunities. Learning here has an international bent to it, preparing students for work all around the world.
Levels of study
In New Zealand, education is divided into five stages:
Children up to the age of five are considered early childhood.
Primary school is for children aged 5 to 10.
Intermediate school is for students aged 11 to 12.
Students in secondary school range in age from 13 to 18.
Tertiary education for 18 years and up
Many Institutes of Technology and Polytechnics (ITPs) and Private Training Establishments (PTEs) offer vocational degree-level education, certification, and diplomas in New Zealand.
Framework for Qualifications
The New Zealand Qualifications Framework is the bedrock of New Zealand's educational system (NZQF). The NZQF provides quality assurance and global recognition for secondary and tertiary credentials.
Education at a higher level
New Zealand's higher education system includes advanced degrees such as bachelor's, master's, and doctorate degrees. There are some of the best courses in New Zealand (H4) and also it has eight publicly funded institutions that offer higher education degrees, 16 Institutes of Technology and Polytechnics (ITPs) that give vocational degrees, and over 700 Private Training Establishments (PTEs) that offer certifications and diplomas.
The New Zealand government allows all Indian students to study in the nation, but you must first get a student visa. The type of access you require will be determined by the type of study you wish to pursue and the length of time you plan to stay in New Zealand.
If you are over the age of 18 and plan to study in New Zealand for more than six months, you can apply for one of the following student visas in New Zealand
Student Visa with Fees
While working part-time, you can study full-time for up to four years.
Student Visa Exchange
For an accepted student exchange program, you can study full-time for up to four years.
Student Visa with the Support of a Foreign Government
You can study full-time for up to four years with a foreign government loan or scholarship.
Student Visa on a Pathway
You can study for up to five years and do three courses in a row on a single student visa while working part-time.
Fee-paying student visa documentation is necessary in New Zealand.
To apply for a visa to New Zealand, you will typically require the following documents:
After your stay in New Zealand, your passport must be valid for at least three months.
A letter of acceptance from a New Zealand education provider specifies the minimum course duration, total tuition fee, and whether the tuition fee is in local or foreign currency.
New Zealand Qualifications Authority approval is required for the course.
A place at a New Zealand Qualifications Authority-approved educational institution has been offered to you.
A formal promise from an institution or individual that you will be able to find acceptable lodgings in New Zealand.
A return plane ticket to your home nation, or proof of adequate means to purchase one.
It's possible that you'll need to provide additional paperwork, such as:
Academic preparation documents include transcripts, diplomas, degrees, and certificates.
Form currently in use – student visa application form
Fee for obtaining a visa
Receipt for tuition fees paid to date
Photos the size of a passport
A scholarship program is available.
Statements of account
The financial commitment of a sponsor to pay for the sponsor's housing and living expenses.
Evidence of your departure from New Zealand once your training is completed.
A police certificate is required if you are 17 years old or older and wish to study for more than 24 months.
If you are staying in New Zealand for more than six months, you will be required to obtain a chest x-ray.
Medical examination in its entirety
Studying abroad can be costly, but having a good financial plan in place can help you manage your living expenditures more successfully. In addition to your tuition fee, make sure to consider expenses such as housing, food, health insurance, and travel when estimating the expected cost of studying in New Zealand
The tuition fee is your most significant outlay.
The amount you pay in tuition fees is determined by the sort of degree you pursue and the university or school you attend. Fee arrangements exist at many of the top universities and colleges in New Zealand. You'll need between NZ$ 22,000 and NZ$ 35,000 each year to cover tuition.
What city will you call home? Calculate the cost of lodging.
On-campus housing, known as Halls of Residence, is available at most New Zealand institutions for international students. Being a resident on campus is a very cost-effective option. However, in order to obtain a spot, you must apply individually and far ahead of time.
The price of a student visa
To study in New Zealand, you must first obtain a valid student visa, which costs approximately NZ$ 270. Please contact your IDP counselor for the most up-to-date information and updates on the visa application procedure and associated costs.
Costs of living
You should set aside money for grocery shopping, social gatherings, and unanticipated costs. When you're a student living in a foreign country, it's important to keep track of your expenses so you don't overspend.
Keep yourself safe. Consider medical assistance and insurance.
Medical insurance is required for all students flying to New Zealand from India before the start of their study. Several New Zealand institutions and universities have begun to provide full health insurance to international students, albeit this only applies while your program is in process and terminates after it is done.
To know more about Studying Abroad, Check out STEP BY STEP GUIDE FOR FRESHERS TO STUDY ABROAD
Scholarship opportunities in New Zealand
If you plan ahead of time and apply for a range of scholarships offered by Kiwi universities and colleges before the deadlines, studying in New Zealand is reasonable. Financial aid is available to worthy international students to assist them in funding their studies; financial aid might be partial or complete, depending on the requirements, course, and institution.
Several scholarships and bursaries are available from the New Zealand government, as well as various commercial and governmental institutions. Double-check the qualifying requirements as well as the application deadlines before applying for any of these scholarships in the New Zealand.
A good academic score is the most significant prerequisite for most scholarships. However, it is dependent on a variety of criteria, including your desired destination, subject, and level. Some scholarships may consider your extracurricular activities and volunteer work. It's important to remember that each scholarship in the New Zealand universities(H4) has its own set of requirements. At the same time, in some cases, a simple application may be sufficient, while in others, you may be required to meet a number of additional requirements. In research-oriented programs, for example, you may be required to complete written assignments. If you have any questions, please contact your IDP international education expert.
The amount of money offered and the type of incentive vary depending on the institution. Specific research programs may cover up to 100% of your tuition costs as well as some of your living expenses. You may face more competition when applying for government scholarships than when applying for university scholarships in New Zealand. As a result, we advise beginning the procedure 8-12 months before to your scheduled intake date.
Postgraduate Opportunities
Postgraduate Diploma Courses in New Zealand
1. Applied Professional Studies Postgraduate Diploma
2. Arts Postgraduate Diploma
3. Business Postgraduate Diploma
4. Business Administration Postgraduate Diploma
5. Postgraduate Certificate in Business Administration
6. Business Information Systems Postgraduate Diploma
7. Child and Family Psychology Postgraduate Diploma
8. Clinical Psychology Postgraduate Diploma
9. Data Science Postgraduate Diploma
10. Design Postgraduate Diploma
11. Education Postgraduate Diploma
12. Forestry Postgraduate Diploma
13. Geographic Information Science Postgraduate Diploma
14. Geography Postgraduate Diploma
15. Science Postgraduate Diploma
16. Health Sciences Postgraduate Diploma
17. Information Systems and Technology Postgraduate Diploma
18. Teaching Postgraduate Diploma
19. International Business Postgraduate Diploma
20. IT Security Management Postgraduate Diploma
21. Journalism Postgraduate Diploma
22. Logistics and Supply Chain Management Postgraduate Diploma
New Zealand has a number of law schools:
Auckland University of Technology's School of Law
University of Auckland's Faculty of Law
University of Waikato, Hamilton, Faculty of Law
Victoria University of Wellington's Faculty of Law
University of Canterbury, Christchurch, School of Law
Dunedin's University of Otago's Faculty of Law
Top Business Schools in New Zealand:
The University of Auckland's Business School
Business School at Auckland University of Technology
Otago Business School, University of Otago
Victoria Business School, Victoria University of Wellington
UC Business School, University of Canterbury
Waikato Management School, University of Waikato
Massey Business School, Massey University
Faculty of Agribusiness and Commerce, Lincoln University